To Be Successful we should be Powered by Knowledge, Driven by Right Principles and Guided by Virtues.
Get Connected with Giancarlo Capco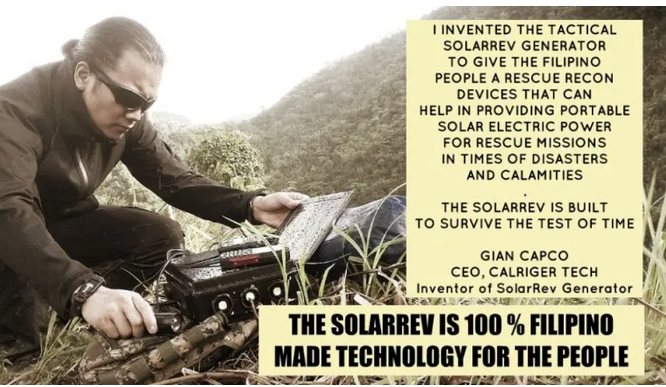 During our travels with the missionaries, we witnessed the importance of bringing portable SolarRev Generator because this gives light in dark times, it never fails to charge our communication devices especially the radio comms and GPS Navigators and there are portable health devices that can be plugged in the SolarRev and ensures availability of basic medical health check in the offgrid sites and the best that the SolarRev can do for us is for it to always be powered by the sun at day time and make power available all the time. – Giancarlo Capco
CEO, CALRIGER
www.calriger.net
Giancarlo Capco is the CEO of CALRIGER and the inventor of the SolarRev SOG Generators
and Powerstation Technologies, both are made in Pateros Philippines.
Learn more at www.calriger.net
Cover to Cover Bible Reading and Study First Round Finished: Unlocked Achievement of a Lifetime!
Sabi ni Giancarlo Capco, isang Inventor ng Military Grade SoalrRev na Napapanahon ang pag tuloy ng pagsasaayos ng barkong ito para sa depensa ng ating bansa laban sa mga dayuhang nangugulo sa ating mga territoryo, at sinabi rin niya na Supportado ng Calriger SolarRev Military Pateros City Tech ang Technology Advancement at Defense Upgrade Transformation ng BRP Sierra Madre sa West Philippines Sea dahil Atin ang West Philippine Sea
Get Connected with Giancarlo Capco by following his social media links and Calriger SolarRev networks