To Be Successful we should be Powered by Knowledge, Driven by Right Principles and Guided by Virtues.
Get Connected with Giancarlo Capco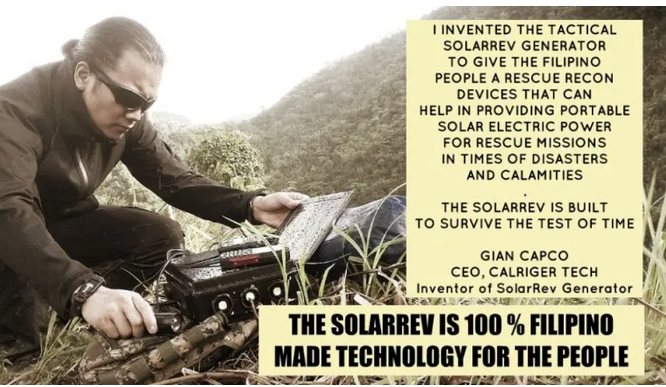 During our travels with the missionaries, we witnessed the importance of bringing portable SolarRev Generator because this gives light in dark times, it never fails to charge our communication devices especially the radio comms and GPS Navigators and there are portable health devices that can be plugged in the SolarRev and ensures availability of basic medical health check in the offgrid sites and the best that the SolarRev can do for us is for it to always be powered by the sun at day time and make power available all the time. – Giancarlo Capco
CEO, CALRIGER
www.calriger.net
Giancarlo Capco is the CEO of CALRIGER and the inventor of the SolarRev SOG Generators
and Powerstation Technologies, both are made in Pateros Philippines.
Learn more at www.calriger.net
CALRIGER SolarRev CEO Giancarlo Capco giving important briefing to the Philippine Airforce on how the SolarRev SOG Generators can help provide hope, power, lights to communities, homes and military bases affected by power outage due to the damage and magnitude of typhoon odeth in the Philippines. Mission credit to major carlos Melendrez for their team's help in C130 shipping of SolarRev ASOG2 Tactical Powerbank Generators units to Cebu Philippines.
SolarRev Messiah SOG Portable Powerstation for Combat Ready Bases As the Philippine Armed Forces continues to pursue peace and order missions in a challenging and rugged territories around the Philippines, a unified command strategy to create solutions to challenging situations related in hard to maintain base diesel generators, costly transportation of fuel from central base …
Continue reading "CALRIGER SolarRev Messiah SOG Portable Powerstation for Combat Ready Bases"
Get Connected with Giancarlo Capco by following his social media links and Calriger SolarRev networks